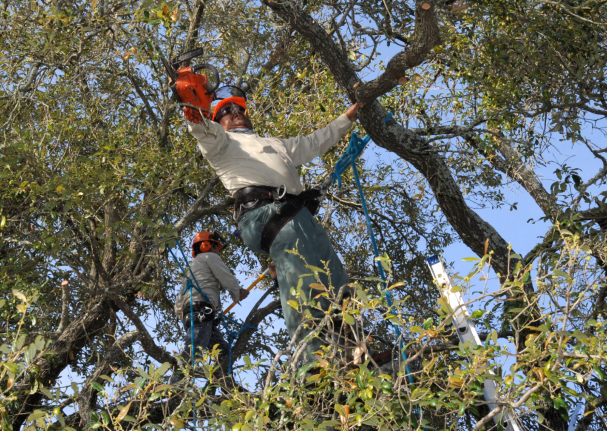 Costa Mesa is home to some pretty tall skyscrapers…and some pretty tall trees. At Costa Mesa Pro Tree Care we do tree lopping to keep these trees as healthy and strong as they can be.
Call us during normal work hours to receive a free estimate on our tree lopping services. Our courteous and efficient staff is here to take care of ALL your tree lopping needs. Oh yes. We carry the tough tools but always stay friendly.
Give us a call at (949) 635-7011 to learn more about Costa Mesa tree lopping.
What Is Tree Lopping?
The definition of tree lopping according to Wikipedia is, "lopping is the selective removal of branches from a tree, and crown reduction is a similar practice which reduces the size of a tree's canopy."
Now that makes us sound like we don't even know. But we do. Costa Mesa Pro Tree care lops trees for a number of reasons, including:
To improve the tree's health

To reduce the tree's height

To shape the tree for its environment

To increase the safety of people under the tree

To clear windows and power lines
In regard to this last, I guess that makes us window cleaners, too. But we're not going to put that on our signage.
Tree Lopping Is Not Tree Pruning
Pruning is the selective removal of dead, diseased, crowded, weakly attached, or otherwise damaged branches from a tree. This helps the tree to direct its energies toward strong growth and fruit production.
Pruning is mainly done for a tree's health benefits, while lopping is usually (though not always) about the aesthetic enhancement of both the tree and its surroundings.
What Kind Of Trees Do You Work On?
All of 'em. Seriously, we're okay if it's a bonsai or a redwood. We have the experience and know-how to do an excellent job on any tree you need us to lop. Some specimens we've worked on are shown here:
Palms

Sycamores

Rosewood

Gum

Cypress

Oak
Whatever kind of tree you have that could use some TLC, Costa Mesa Pro Tree Care is the team to call.
How Do I Know If My Tree Needs Lopping?
If you think your tree may need some lopping, it probably does. But here are a few questions to help you decide:
Is the tree getting too tall for its surroundings?

Are there any dead or dying branches?

Are any branches hanging low and in the way?

Do any branches rub against each other?

Do you see any damage to the bark?

Is the tree's shape getting out of control?
What Are The Disadvantages Of Tree Lopping?
Sometimes people will try to save money by lopping their own trees. But this can be dangerous, and it's always best to leave tree work to the professionals.
Other disadvantages of tree lopping include:
It can be harmful to the tree.

Lopped trees often grow back larger and faster, requiring more work in the future.

Trees that are not lopped properly can develop weak or unstable structures.
So there you have it. Everything you ever wanted to know about tree lopping (and then some). If you have any more questions or would like to schedule a free estimate, please give us a call. We're always happy to help.
Comprehensive Tree Lopping Services
Costa Mesa Pro Tree Care lops trees for both residential and commercial customers. We understand that every customer and every tree is different. That's why we offer a range of tree services to meet the specific needs of both our customers and their trees. 
Some of the tree lopping services we offer include:
Crown reduction

Crown thinning

Dead wood removal

Fruit tree pruning

Hedge trimming

Shaping

Size reduction

Stump grinding

Tree removal
Whether you need one tree lopped or an entire property cleared, we have the staff and equipment to get the job done quickly and efficiently. Contact us today for a free estimate.
We're easy to reach at (949) 635-7011.